25 years of expertise in intralogistics fleet management
With a twinkle in our eye, we present 25 good reasons for Mobile Easykey – in weekly posts on LinkedIn, Instagram and Facebook.
Start: June 19, 2023!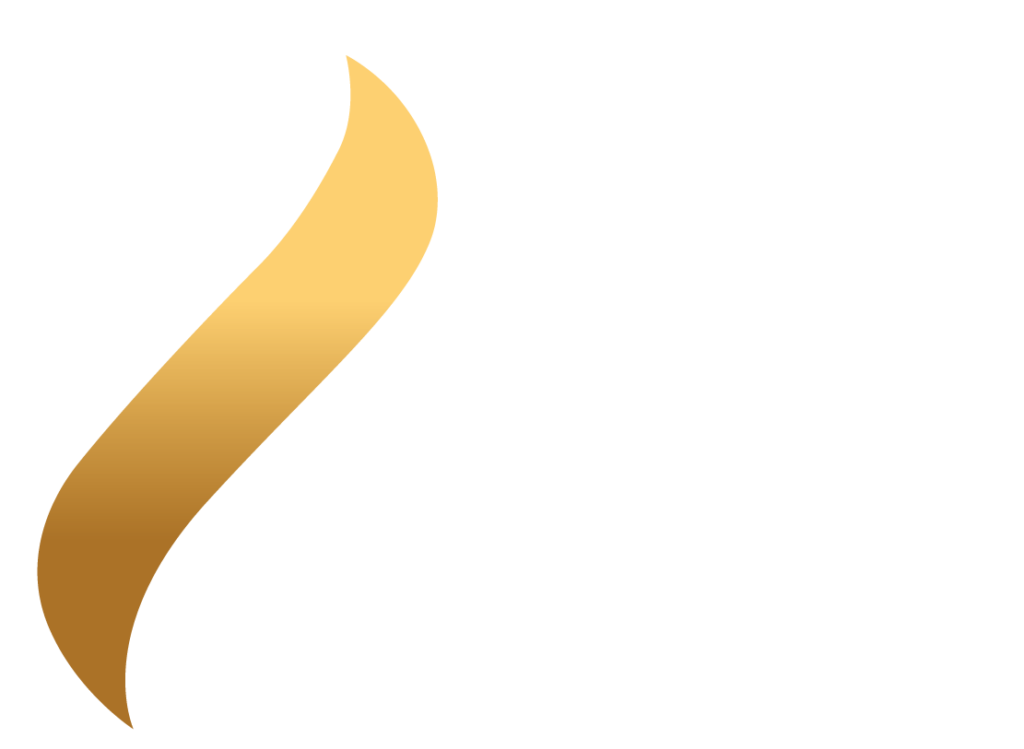 Mobile Easykey's GDPR compliance is independently audited and confirmed. We have done our best to ensure that you manage personal data in a legally secure way, 6-fold secure!
Individual operating rights for each software user

Automated pseudonymization (according to customer specifications)
Automated anonymization of logbook data (according to customer specifications)
Automated deletion of logbook data (according to customer specifications)
The data remains on your server and does not end up in some cloud somewhere in the world!
The independently prepared expert opinion therefore concludes that there is no need to conclude an order processing contract with Mobile Easykey.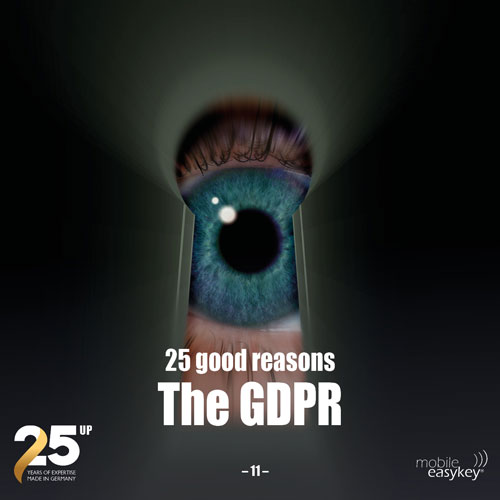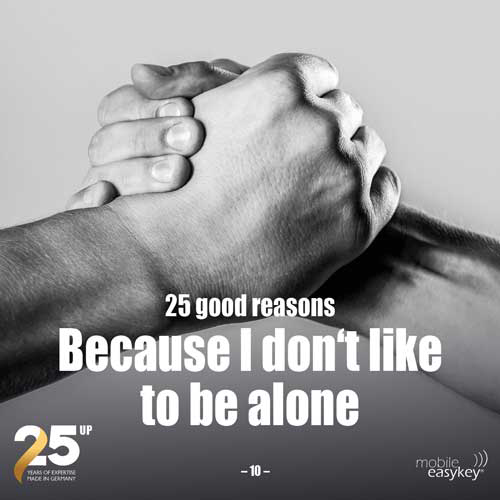 Because I don't like to be alone
We won't leave you out in the cold! From presentation, implementation and retrofitting to service, software maintenance and repair: we care!
Help Desk by phone or via website
Wiki with operating and installation instructions
Area Sales Manager, After Sales, Service Technician, Digital Office, Service Partner
All-in software license and maintenance contract with service levels: 24 and 48 hours
Regular innovation workshops with customers
Customized solutions available on demand


What can't be captured in bullet points is the connection with our customers, some of which goes back decades: from demand and input – we have made what Mobile Easykey is today. Thank you!
A colleague once said, "We've never analyzed a customer as having too few forklifts." Gut feeling is important, no doubt about it. But at some point, it's also important to know why it's pinching. That's why, at its core, Mobile Easykey software answers the following questions:
Do I have enough forklift trucks?

Am I using the fleet effectively?
How are the forklift trucks utilized?
How often are the forklift trucks in need of repair or maintenance
How are the forklift trucks being used?
Are the legally required requirements met?


And with the IFOY-nominated "FFZ-KPI" metric, a single number can be used to instantly tell whether or not your gut feeling is right. "This is an important building block for making optimum use of the existing intralogistics fleet" says the IFOY jury.

Learn more about the IFOY-nominated FFZ-KPI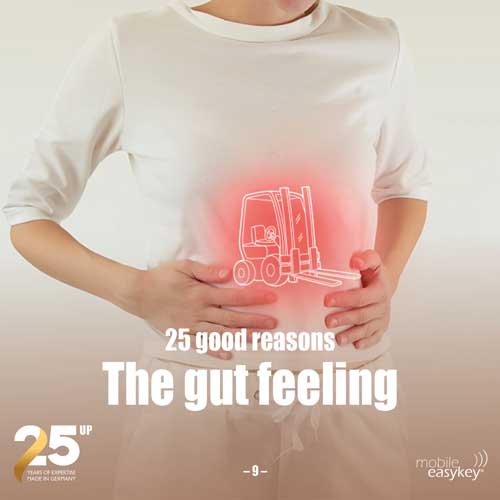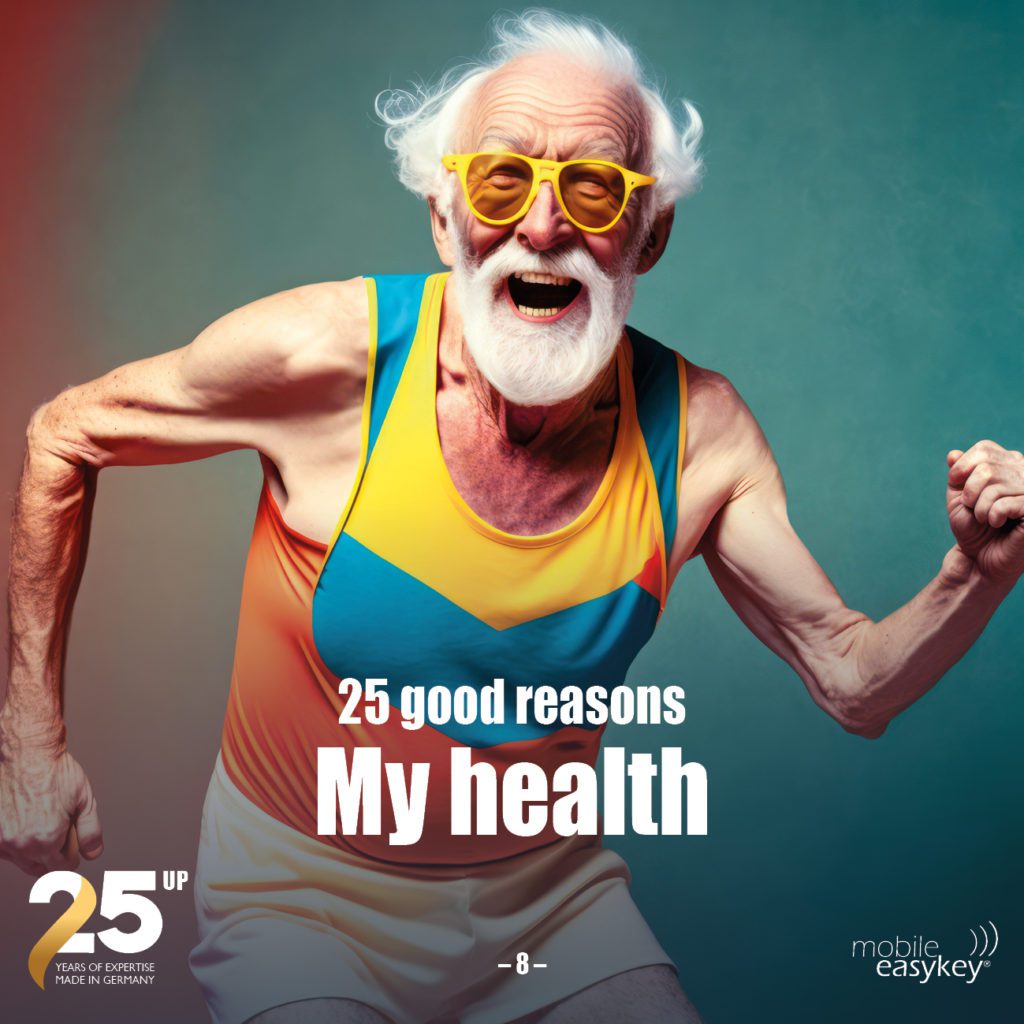 Rumbling over speed bumps with a forklift, challenging dicey situations, damaging safety-related equipment. "Holterdiepolter!" Mobile Easykey protects the health of people in intralogistics in many ways:
Crash sensor and access control lead to prudent driving.

With the "learning drives" for the Crash Sensor, back-damaging distortions in the floor can be pointed out.
With Indoor or Outdoor Locator, accident black spots become visible.
Health checks that are due cannot be forgotten.
Accident figures decrease: An accident that does not happen does not endanger health.

Read more in the Job Report "Saarstahl: Fleet management for the intervertebral disc"
It's been a long time since you've gotten a cuddle? On the job, that is? Imagine if there was something that made everyone in the company happy.
More security
Lower costs
Easy implementation
Can be retrofitted or ordered ex works
Simply rent – without a big investment
Fits on and for everything


Sounds too good to be true? But it's true. Just like the fact that your boss will love you (even more) – with Mobile Easykey.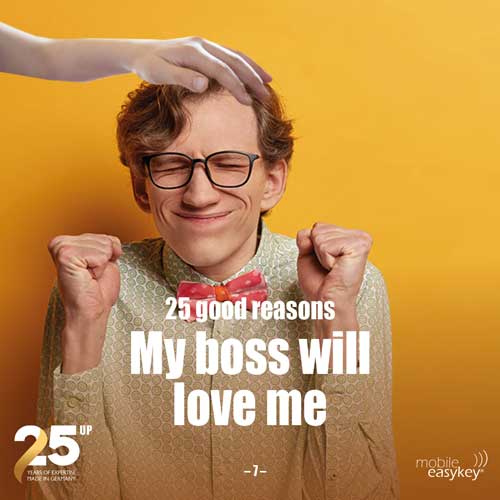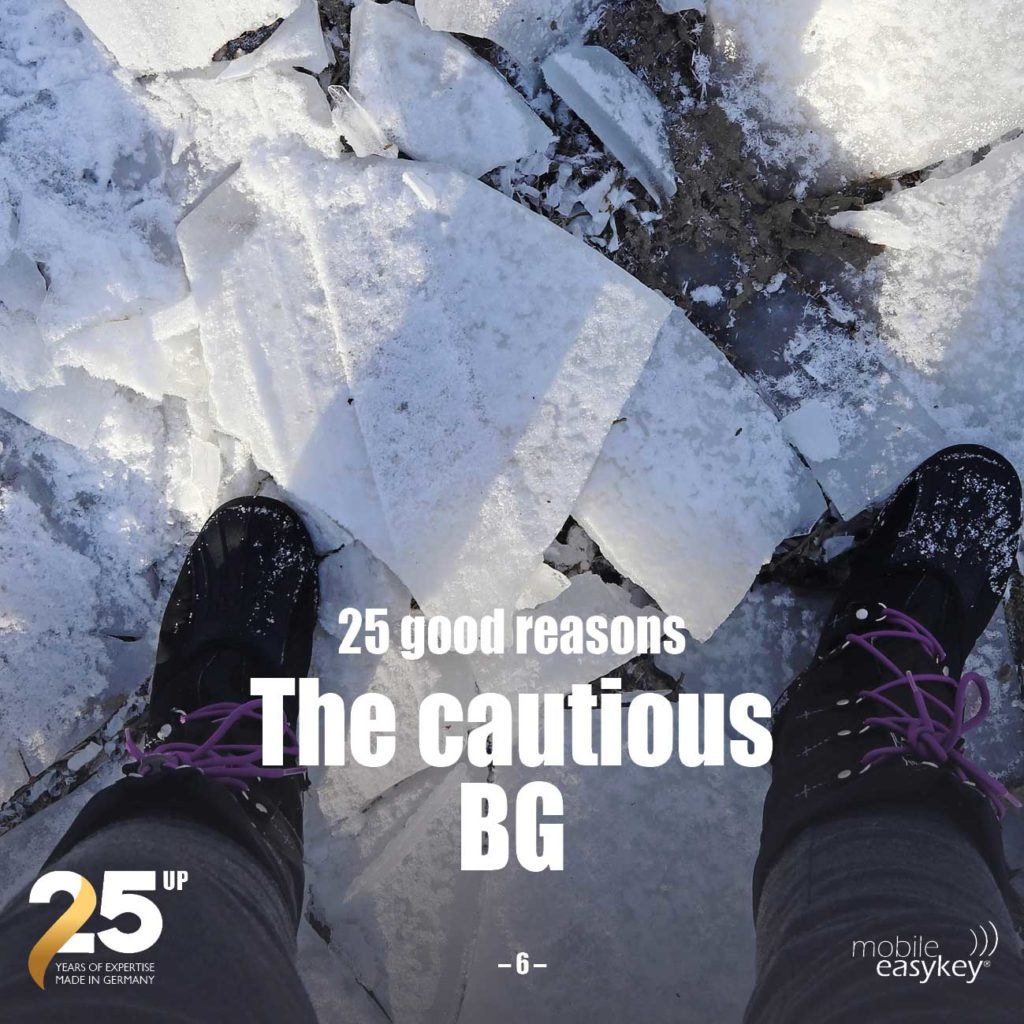 The cautious employers' liability insurance association
Pro-active safety: Mobile Easykey ensures careful handling and thus the protection of people, vehicles, machines and peripherals in a variety of ways.
Personal transponder instead of five keys for everyone
Management of driving authorizations, instructions, health checks, etc.
Immediate decrease in the number of accidents with the introduction of the system
UVV and maintenance planning
Documentation and archiving of all processes in the software logbook
6-fold data protection
The Mobile Easykey software can ensure legally compliant management of work safety-related procedures. Even the ever-cautious employers' liability insurance association will be pleased!
Who saves so much money has money for extras that can be invested more sencefully.
Violent damage, e.g.: Volkswagen OTLG -50%, Lufthansa Cargo -50%, Daimler -20%
Fleet size, e.g.: Volkswagen OTLG -15%, Daimler -10%
Maintenance costs, e.g.: Volkswagen OTLG -15%, Daimler -10%
Fewer accidents mean lower costs due to lost staff.
Leasing costs don't get out of hand thanks to the Mobile Easykey software.
And instead of getting a forklift truck with too high a load capacity again, next time it might be the golden wheel rims.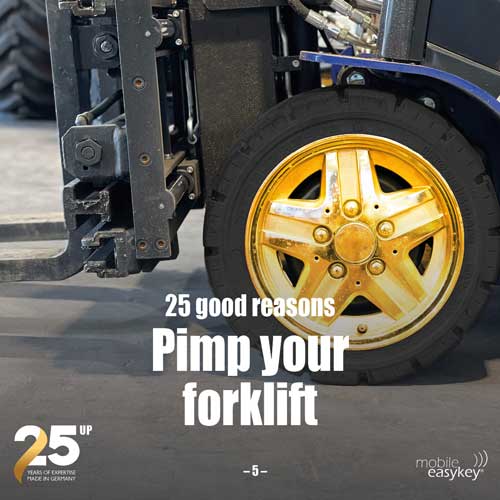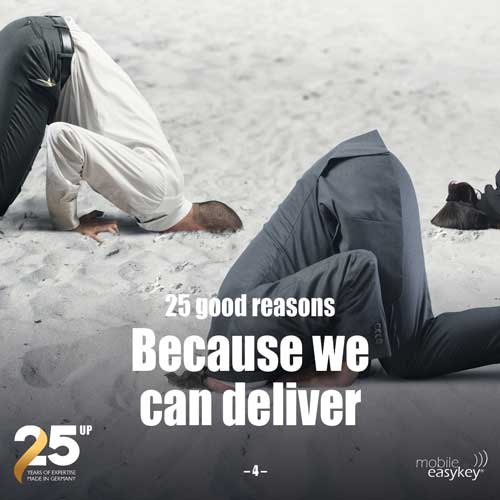 Despite interrupted supply chains and shortages of raw materials, we have (almost) always been able to deliver in recent years. Because we act farsightedly and responsibly:
Long-term product planning and flexible production.

Mobile Easykey developed and produced in Germany.

Partnerships with suppliers who have been associated for many years.
And if the worst comes to the worst, our close cooperation with our customers leads to adequate, fast and pragmatic solutions. Promised!
Even the works council loves us
Granted, it's not always love at first sight. But on the second it's even stronger.
With the introduction of Mobile Easykey, the number of accidents decreases significantly.
Peripheral damage (e.g. fire protection gates) can be recognized and remedied immediately.
Personal data is protected against unauthorized access, 5-ways!
A works council password, for example, offers the highest level of protection for data.
Everything about work security can be managed in one software.
Less cost pressure on the personnel side through savings in material costs.


Mobile Easykey also provides more transparency and clarity. And that ensures more satisfaction on all sides.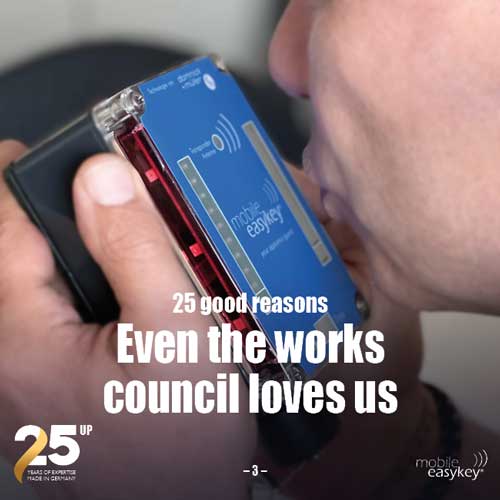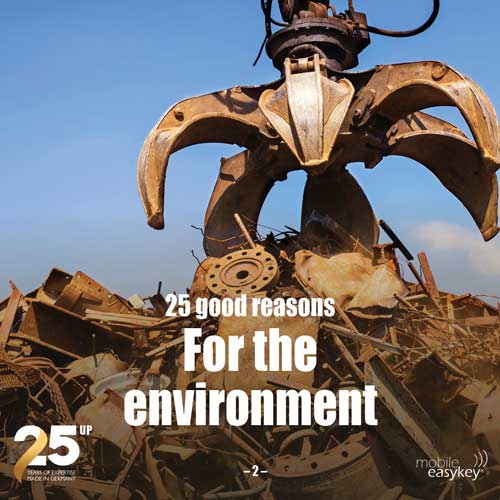 We not only save costs or increase security. Mobile Easykey ensures more sustainability in the company!
The analysis tools of our software help to decrease the invest in new equipment.

New equipment can be purchased according to actual needs (e.g. load capacity).

Optimization of processes with our Load Sensor and Indoor Locator.

Maintenance and UVV inspections only when actually needed ("real" operating hours).

Fewer repairs due to less violent damage.

Mobile Easykey hardware lasts longer than a forklift – retrofitting possible!
Saving resources with Mobile Easykey also means reducing CO2 emissions.
We sell everything – except forklifts
We do not sell forklifts. Our fleet management system is manufacturer-independent. And so are we!
We deliver neutral data.

All data remains 'unfiltered' in-house at the customer.

Fleets are analyzed 'unadorned' by our software.

We help to reduce the size of your fleet.

We help to save costs of all kinds.

We provide transparent data for all types of equipment, for all manufacturers.
Manufacturer independence has many advantages. We see ourselves as an advocate for our customers.