The responsible Area Sales Manager will provide you with an individual leasing offer – as part of an offer for our Mobile Easykey hardware and software.
All-round carefree –
fixed price, fixed contract term
easy DaaS!
Just rent
Mobile Easykey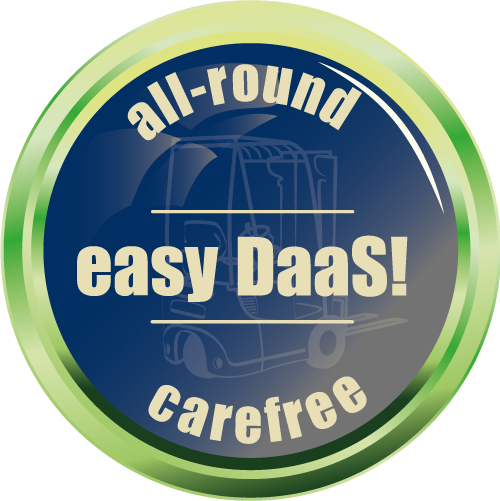 DaaS = Device as a Service
easy DaaS! Just rent Mobile Easykey: You pay a fixed agreed price for a fixed contract period. Which hardware or software version you use no longer matters. You simply choose a suitable package for you.
We'll take care of the rest. Only the installation of the hardware will be charged separately.
No capital commitment
No high one-off investment costs
Liquidity is maintained
Calculated rates offer transparency
Always up-to-date hardware/software
Term freely selectable from 12 months
For any fleet size
The all-round carefree package at a fixed price
The monthly amount  includes hardware, software, all maintenance  and updates as well as the extensive services of the software maintenance contract, e.g.:
Monthly function control of the software
2 x yearly support in case of server change
Telephone support:
On-call Monday – Friday, 7 a.m. – 5 p.m.
Response time: max. 4 hours
10 % discount for trainings
For example: with a fleet of 50 vehicles, the price for easy DaaS! One starts at 15 EUR per vehicle per month. With our calculator we can immediately determine a binding price for you. The calculator is currently available for the ONE and CLASSIC packages. ADVANCED and ENTERPRISE will follow immediately, or your Area Sales Manager will be happy to calculate for you.
(Not included are one-off costs for installation or follow-up costs resulting from external influences such as damage caused by violence.)
The packages in comparison
ONE: The base with administration of vehicles and users and all counters for an informed analysis of the fleet
CLASSIC: Additionally with Event Tools and Crash Sensor
ADVANCED: Additionally with three-stage Crash Sensor, sensors for battery and load, FFZ-KPI, Data transmission WiFi/Mobile
ENTERPRISE:

Additionally with

indoor positioning
(CURRENTLY SOLD OUT)
*Departure control app: smartphone not included